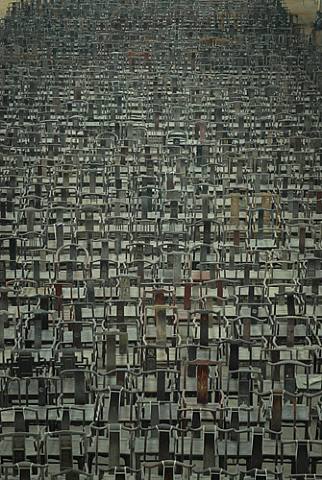 This
seems a nice way to protest the jailing of Chinese artist Ai Weiwei. One of Ai's works,
Fairytale-1001 Chairs
, involved just that: 1001 Chinese chairs, assembled in a room and then distributed around the German town of Kassell.
So the plan is to recreate the work tomorrow, by bringing chairs to Chinese embassies worldwide, and staging a thematic sit-in:
This Sunday, April 17, at 1 PM local time, supporters are invited to participate in 1001 Chairs for Ai Weiwei, by bringing a chair and gathering outside Chinese embassies and consulates to sit peacefully in support of the artist's immediate release.
Incidentally it's not just artists supporting Ai. Apparently Ai was a serious gambler, and his blackjack buddies are getting together to support him. Hence the
wonderful title
"
Arrested Chinese Blackjack Guru Ai WeiWei also an Artist and Activist
". See, people churning out dubious online articles to promote online gambling can occasionally produce works of pure, self-parodying genius.